Informing and Transforming
Tomorrow's Economy
The Economic Growth Institute has provided innovative economic development programming and applied research for more than 35 years.  Through our work, we build more resilient businesses and communities, connect university innovations with small and medium-sized enterprises, and provide student learning experiences for the next generation of community and business leaders.
New tech products launched
Economic research studies
State and Federal programs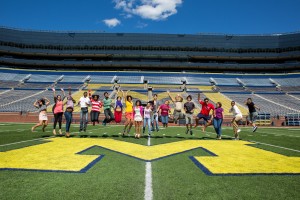 Students who work at the institute become part of a network of business leaders, public sector leaders, consultants, and researchers. Graduating students feel prepared after working at the institute for roles in the public and private sector, at startups, consulting firms, government agencies, and Fortune 500 companies. 
Recent News
Parker Finn
Reprinted from The University Record By Alex Piazza Universities and federal laboratories are the cornerstones of American innovation, developing new products that address important societal issues and drive economic growth. The University of Michigan,
Parker Finn
Former research associate Nour Arafat discusses her experience in product development with class. The Economic Growth Institute launched its first course this semester teaching students the fundamentals of how to evaluate a company and
Parker Finn
The Defense Manufacturing Assistance Program (DMAP) released final results demonstrating tremendous impact on business growth, innovation, and community resiliency. The Economic Growth Institute at the University of Michigan, along with its partners at Purdue University