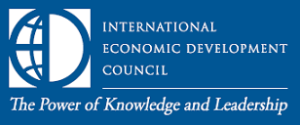 By Alex Piazza
Office of Research
The largest international economic development organization has recognized a University of Michigan institute for successful implementation of innovative programs that have helped create more than 1,000 high-tech jobs throughout the state.
The university's Economic Growth Institute recently received the International Economic Development Council's Excellence in Economic Development Award for its efforts in supporting small business. Beyond job growth, companies served by the institute's First Customer Program and Small Company Innovation Program have generated $204 million in new revenues from technology products, along with $266.1 million in new investments since 2014.
"Michigan wins because we help get new technologies to market at an accelerated pace, improving the state's economy that typically ranks in the top 3 least-diversified states," said Paula Sorrell, director of the Economic Growth Institute. "An added bonus is that U-M has facilitated equitable distribution of projects and funds across the state, supporting many local economies and partnering with all of its public universities."
The First Customer Program, funded by the Michigan Strategic Fund (MSF) through the Michigan Economic Development Corporation (MEDC), assists companies by identifying critical gaps in business development, marketing and sales. The program, which co-funds projects with service providers, focuses on advanced technology startups, as well as established technology companies that seek to diversify into new markets.
Backyard Brains, an Ann Arbor-based company that designs kits to provide insight into the inner workings of the nervous system, doubled its rate of growth after completing the First Customer Program. Their growth stems, in part, from a detailed financial analysis led by program staff that helped Backyard Brains identify their target market—teachers and professors.
"We only had a 25 percent increase in 2014 over 2013, but thanks in a great deal to the First Customer Program, our sales grew 57 percent to total nearly $700,000 in 2015 over 2014," said Greg Gage, cofounder and CEO of Backyard Brains.
The Small Company Innovation Program, also funded by MSF and MEDC, provides 1:1 matching funds up to $40,000 to Michigan small businesses to help cover the cost of conducting a research project at any Michigan public university. The program is intended to help companies overcome a common challenge faced by small companies and entrepreneurs—getting research and development needs met so they can get to commercialization faster.
As an example, the program has arranged for a company to work with Western Michigan University researchers to develop​ and deploy flexible electronics technology, while another partnered with Michigan State University researchers to validate the effectiveness of​ new sleep technology.
"By introducing academia to real-world entrepreneurship, and bringing university horsepower to a business team, the impact on product commercialization has been huge," said MEDC CEO Jeff Mason. "Michigan relies on these kinds of programs and impacts to continue to diversify our economy and keep our companies ahead of the technology curve."
The Economic Growth Institute reports jointly to the U-M Office of Research and the Office of the Vice President for Government Relations at the University of Michigan.