Best practices in ethnic commercial corridors
Economic Growth Institute completes study: A Qualitative Comparative Study of Ethnic Commercial Corridors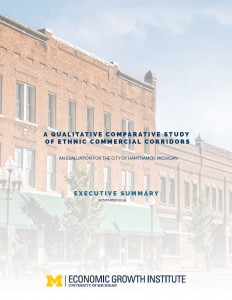 The Economic Growth Institute partnered with the City of Hamtramck and the Taubman College's Michigan Engaging Community program in an evaluation of selected ethnic commercial corridors throughout the United States. The study benchmarked these commercial corridors for Hamtramck leaders so they could assess this type of economic development along with the needed support from institutions, businesses and community members. The benchmarking analysis was focused on communities similar to the Banglatown area in Hamtramck.
Scope and findings
The research team assessed five communities with ethnic commercial corridors, defined as "a commercial enclave of established and growing immigrant-owned businesses that represents and serves a local ethnic community, and appeals to and engages a broader community."  The comparable communities identified were as follows: Eat Street in the Whittier neighborhood in Minneapolis; South Grand Boulevard in St. Louis; Asiatown in Cleveland; Clarkston, Georgia; Broadway-Fillmore neighborhood in Buffalo. The comparative analysis of the communities included secondary data on each community, literature review and interviews with community stakeholders. Four strategies of development emerged: grassroots organizations, cross-cutting funding, planning & investment, and anchor attractions & marketing. 
These strategies provide an overview of the successful elements common between these communities and the potential starting points for a community looking to begin development. For further information, please download the full report. 
The executive summary is available for download at the link below.  To receive the full report, please complete the form.